Drinking in Movember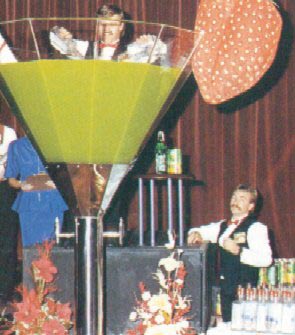 The Movember Committee has been kind enough to provide its followers with a comprehensive list of the beverages that they are allowed to consume in this mighty month.
Flaming Moe (originally Flaming Homer)
1 part Tequila
1 part Schnapps
1 part Creme de Menthe
1 tbsp Colonel Krusty Brand Non-Narkotic Cough Syrup For Kids
Set on fire, then extinguish paying careful attention so as not to ignite your Furry Friend. Enjoy in MOderation.
MOjito
Place fresh lime juice, mint leaves and some sugar into a glass.
Mash together and add crushed ice .
Add some rum and top with soda water.
MO-lotoff Cocktail
Drink half a bottle of cheap Nuriootpa-distilled vodka
Dowse a rag in some of the leftover spirit and wedge into top of bottle
Ignite rag with a ZipMo™ Lighter
Throw in the general direction of anyone sporting a beard with no moustache (aka the Lincoln Look)
Other Drinks