Hall of Fame

Here's the world's biggest mo with its owner, a New Delhi prisoner called Karna Ram Bheel (1928-87). The mo measures an impressive 238cm (7'10"), and he kept it in trim using mustard, oil, butter and cream. We at Movember prefer to pickle ours in beer.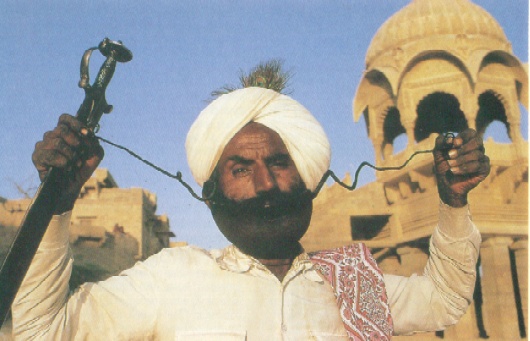 CATEGORY 1: Sporting Mo's
Boonie. David Boon. The model Taswegian. We salute you.
Dipper. Robert DiPierdomenico. That thing is HUGE. And I'm not talking about the name.
Dennis Lillee. An expert in the trade.
Rod Marsh
Malcolm Blight. The original Coach Blighty.
Ron Barassi. Mrs Football.
Leigh Matthews
Merv Hughes. The only thing bigger was his gut.
Peter Taylor. The mo saved him from his unattractive bowling action.
Graeme Gooch. (see Merv Hughes)
Ian Chappell.
David Foster.
Nigel Mansell.
John Newcombe. Bewdy Newk!
Robert DeCastella. Loved his mo so much he chased it for 26 miles at a time.
Ian Botham.
Warwick "Toddy" Todd.
"Hollywood" Hulk Hogan.
Phil Carmen.

Top row, L to R: David Boon, Merv Hughes, Malcolm Blight, Random Darts Player
Bottom Row, L to R: John Newcombe, David Foster, "Hollywood" Hulk Hogan, Nigel Mansell
CATEGORY 2: MOving Picture Mo's
John Astin. "MOrticia... Your French! My moustache!!!!"
Cheech Marin.
Clark Gable. Frankly my dear, I have a magnificent moustache.
Ian Hewitson.
Mr Potato Head. Fact: This mo-possessing toy was the first toy ever advertised on television
Sergeant Schultz.
Darryl Kerrigan. "It's not a moustache, it's a mo!"
Errol Flynn. That thing is HUGE. And I'm not talking about the mo.
Yosemite Sam.
Montgomery "Scotty" Scott. Though his mo is only in the MOvies
Zero Mostel.
John "Cliff Claven" Ratzenburger. "the first moustache wearers were not the Turks but an African tribe..."
Eddie Murphy. Beverly Hills Mo
Asterix & Obelix. And Caconofix & Vitalstatistix.
Richard Pryor. "White guys' mo's don't do nothin' - but black guys' mo's move like this=!!"
Frank Oz.
George Donikian. "...and that's the way my mo is, this beautiful month of Movember"
Con the Fruiterer.
Ian "Turps" Turpie.
The Price may not be Right any more, but that mo certainly is.
Ugly Dave Gray. Not so ugly with your mo!
Tony the Tash Twirler. also of Blankety Blanks fame
Lee Majors. The Six Million Dollar Moustache.
Fletcher. The guy from Prisoner.
Ned Flanders, Apu Nahasapeemapetilon, Cletus, Guy Incognito (Homer's exact double), Jebediah Springfield
Randy Marsh.
Arthur and "Bloody Robert" Beare.
Siskel. Or was it Ebert? Anyway, they only get one thumb up.
Mario & Luigi Mario.
The Oz Brothers. Who am I? Who am I?..........Boonie!!!
Charlie Chaplin. Had the Hitler mo but wasn't nearly as politically incorrect.
Jimmy Edwards
Groucho Marx. You could be a member of this club any day! Even though it was a falsie
Carter Heywood
Larry Tate.
DC Alfred "Tosh" Lines. RIP, Tosh. We're all nicked, sunshine, but rest assured it's no shaving cut!
Citizen Kane. SPOILER: 'Rosebud' was the name of his moustache!!
Charles Bronson. Tough mutha mo.
David Niven. The only time 007 looked truly classy.
Alby Mangels.
Harry Shearer.
Lucky Grills.
The Man With The Dolmio Grin Not a Tassie Tickler reference.
Kotter. Whatever his name is. Nice Fro too.
Willis Jackson. He knew what he was talking about. Again, nice Fro. We need a month for these guys.
Theo Huxtable.
John Cleese. (from MOnty Python)
Manuel.

Top Row L to R: John Astin, Yosemite Sam, Citizen Kane, Tosh
Bottom Row L to R: The Man with the Dolmio Grin, Manuel, Clark Gable, Mr Potato Head
CATEGORY 3: Clever and Creative Mo's
Salvador Dali. (words cannot express)
Rembrandt van Rijn
Frederich Nietzche. (again - an absolute ripper)
Rudyard Kipling
James Joyce
Thomas Hardy
Robert Louis Stevenson
Victor Hugo
Henry Lawson.
Fu Manchu.
Albert Einstein.
E=MO.
Paul Davies.
Mark Twain
George Orwell
Günter Grass
CATEGORY 4: Powerful Mo's
Joseph Stalin
Adolf Hitler
Hafez al-Assad
Margaret Thatcher
Kemal Ataturk
Saddam Hussein
Hirohito
Pablo Escobar
Emilio Zapata
Francisco Franco
Martin Luther King
Mark Brandon "CHOPPER" Read
- check out his CD on our MOchandise page
Con Polites
Noriega
Veerappan
(India's MOst wanted man) Must-read THIS!!!!
Top Row L to R: Saddam Hussein, Adolf Hitler, Mustafa Kemal Ataturk, Martin Luther King Jr
Bottom Row L to R: Joseph Stalin, Emilio Zapata, Veerappan, Chopper Read
CATEGORY 5: Musical Mo's
Derek Smalls (Spinal Tap)
Barry Crocker
Freddie Mercury
Lionel Richie
("Hello, is it MO you're looking for?")
Kinky Friedman
Village People
Jimi Hendrix
Beatles (circa Sgt Pepper's)
"Blue" Lou Marini, Tom "Bones" Malone, Matt "Guitar" Murphy, Cab Calloway
Dizzy Gillespie
Village People
Frank Zappa
Machine-Gun Fellatio
(for the girl with moustaches on her breasts)
Dave Graney
BB King
Sonny Bono
Motorfinger
Danny Whitten.
ex-Crazy Horse (the damage the needle done)
Jon Bonham
Ginger Baker
Enrico Caruso

Top Row L to R: Barry Crocker, The Beatles, Jimi Hendrix, Freddie Mercury
Bottom Row L to R: Enrico Caruso, Village People, Kinky Friedman, Dave Graney
hOMe
Copyright (c) 1999 Movember Committee